We interviewed a student team from Graduate School of Management KyotoUniversity who won two awards at the Kyoto InternationalEntrepreneurship Contest. Read about their story, from how a team came up tohow they have been developing an idea of next-generation mobility hotel"Mobel".
Please introduce yourself and tell us what brings you to Kyoto?
 
(Dinesh)I'mDinesh from India. I took an international project management course at Kyoto University from 2019 to 2021. Right now I've graduated and work as a product manager for an IOT-based company in Tokyo.
 
(Chikara) My name is Chikara originally from Kyoto, not far away from Kyoto University. I grew up and lived in England for over 20 years. I used to work in the finance industry. I've studied MBA at the Kyoto University and now I'm an only one who still go to university.
(Haissam) I am Haissam from Pakistan. I'm an engineer from my background and work for more than eight years in EPC consumer electronics and manufacturing industry in Pakistan, UAE, and Japan. I started to take a MBA course at Kyoto University in 2019 by taking a career break and graduated from the university in 2021, just like Dinesh and Chaw Chaw. Now I am exploring several opportunities to study for my PhD in the management field, and also exploring opportunities to think about how we can survive better with resilience from this pandemic.
(Chaw Chaw) My name is Chaw Chaw. I'm originally from Myanmar and came to Singapore after high school. I've been to Japan in 2018 to study, just like Haissam. I have also engineering background. I have almost six years of working experience in a company as an electronic engineer for R&D department. I've been to Japan particularly to specialize in international project management. But I was introduced to our entrepreneurship class and got to know all our members. After graduate, I tried internship with one of the largest venture capitalists from Silicon Valley. I've just finished my internship and back to Singapore and starting as Engineering Project Manager at Dellm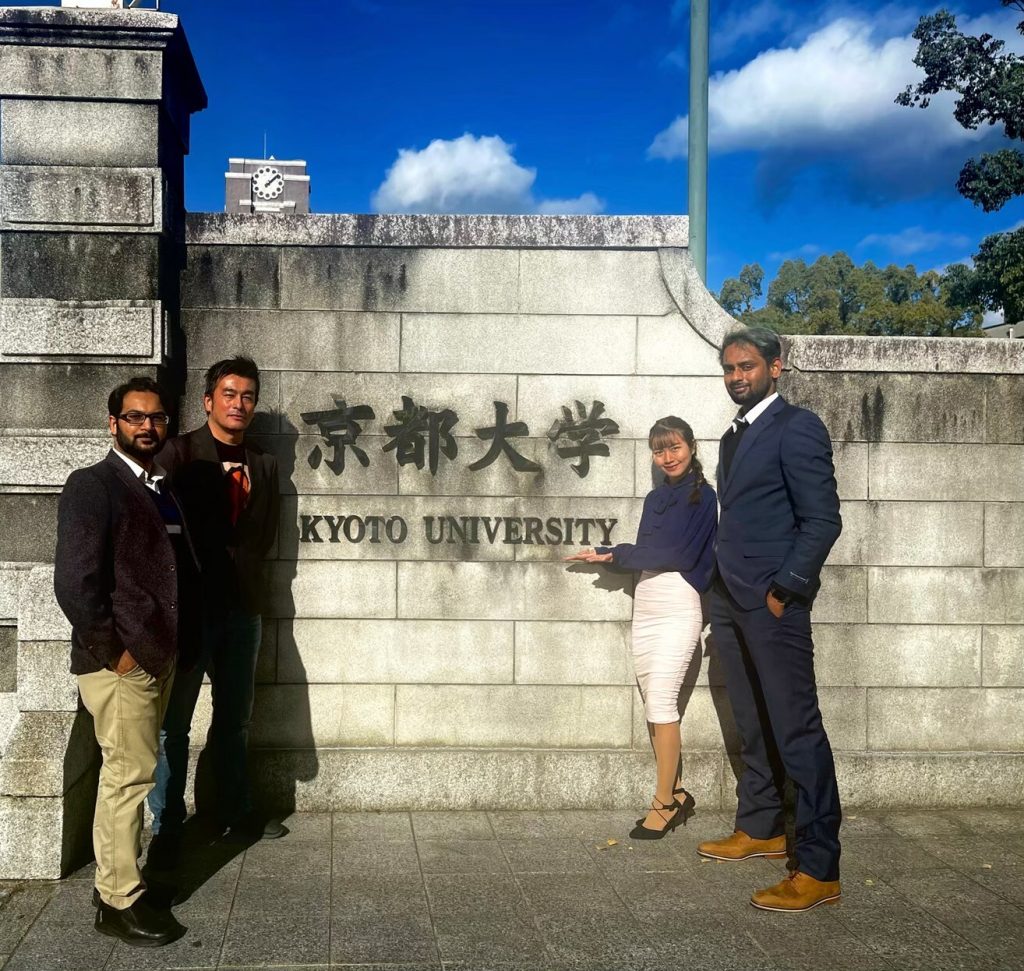 All members are from Kyoto University MBA program.Could you please introduce your project "Mobel"?
 

 (Chikara) The idea of Mobel came about when Dinesh and I talked at business development class at MBA with Prof. Sugiyama.
We kept in touch and decided to make further progress on the idea and to test it. This is one reason why we attempted to this business contest. We tried to recruit our team members for some kind of support, some of the skill set that perhaps we were missing, like Haissam who has great engineering background. That is just how this team came about.
At the moment, we are physically in different location. So it's a pretty difficult to continue this project. But I'm still keen to realize this idea and keeping in touch with our team members.
(Haissam) The pandemic situation let us make further delay to start such initiatives as the hotel in mobility. The tourism industry which is important for Kyoto has been badly affected with the pandemic, as well as the economic effects. As Chikara san also mentioned before, we're still interested in exploring the possibility of how we can do well and when the suitable time will be. Timing will be very key point in this element for us.
(Dinesh) When this concept came into existence, Kyoto was very crowded with many tourists. However, some places are crowded and others are less crowded. Why do people go to some places and not to others? What is the different? We looked into surveys, articles to understand the root cause.
The key issues are the transportation and its combination. In other words, accessibility is important issue. If you have these two factors available in the location you want to go, you can go and explore wherever you want. When people chose the accommodation, they are mainly interested in the location itself, so they consider how easy it is to access. That is why we started to consider places or hotels which can eliminate geographical limitations. That was the core concept of our idea. Mobel is a place to move as well as to sleep with no geographical location.
Furthermore, you can access everything using your smartphone. You can manage payment, membership points and reservation through user's account with your smartphone. Everything will be done by contactless through your mobile app. This is a kind of sample app that we've developed for this specific purpose of booking and payment.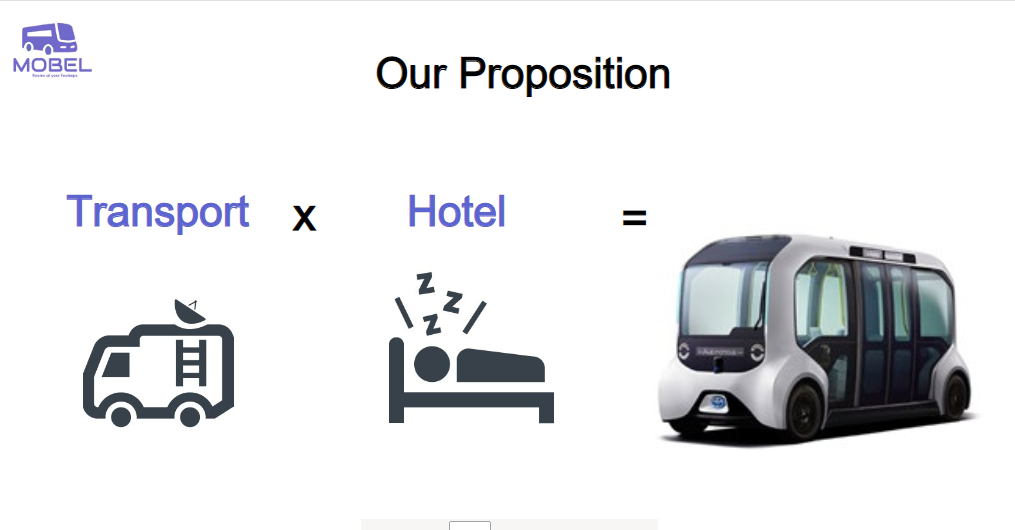 The over-tourists is a big issue for Kyoto. After corona pandemic is settled down and the borders will reopen, many tourists will come to Kyoto and this issue will come up again. I think how to diversify tourist to other area will be the key to solve this issue. So this apps may become a kind of help. What do you think?
 

(Chikara) I think the character of our app is not just an app itself. Our app resolves the problem for both the transportation and accommodation at the same time. If you can combine all these information that people look for, such as recommendation about where to go, how to get there, etc. as single source, I think it's a verystrong argumentvisiting these places. I think this app can potentially help that kind of movement to allow people to travel away from the center of Kyoto city.

 
(Haissam) Since pandemic has changed human behavior a lot, I believe in the future more people would be pushing forward such kind of activities or things which they may escape or try to be far from the crowded place. In fact, there are many studies about how human behavior works.
(Chikara) What you can do with our app is similar to rental car services. Initially you set up when and how long you want to hire a vehicle and hire it. The app allows you to pick a car, to use it for how long you booked, and to make a payment using your usual credit card.
(Dinesh) What we want to mention is not just to help you to book a car. We want you to explore a lot of places and give you suggestions based on where you want to go. There are places where you cannot really find online such as Google search engine or anywhere else. The app also can show you a lot of mobile-friendly parking places around the region. A core concept is to take the people outside from the city areas.
(Chikara) We want to suggest a location as long as price and convenience are concerned, and to tell you what to do, where to go, and what kind of activities are available in that place. Mobel's app allows you to book remotely where to park the car, and will also tell you what facilities available including restrooms, Wi Fi access and so on. So this is a basic prototype at the moment.
Will tourists drive Mobelcar by themselves?
 
(Chikara) Yes.

 
(Dinesh) In the initial idea before we started brainstorming, we wanted to enable the car to come to your footsteps on its own as soon as you reserved it. It means you don't really need a driving license to drive a car. The vehicle drives for you autonomously wherever you want as long as you set the location. However, for the first few years until the technology matures, we might consider using the non-autonomous vehicle that is manual driving.
Our whole concept is to make people to use this vehicle for another unique experience, as well as to explore another part of lifestyle which you cannot find as long as you are inside the city.
Who will be your target users?
 
(Dinesh)We are thinking of focusing on families and young people like college students as a target, but people above 60s or 70s who can still enjoy travelling regularly can be also our target.

 
(Chaw Chaw) Foreign-nationals can be our target, too. You know, it's very hard to find the companies for us as a foreigner, when we want to hire a car. I'll give you an example. When Dinesh went around to look for camper van, it was really difficult to find the location of the company. So one of our niche services is to book easily online even for foreigners.
Another thing in which we found a niche is the interior design of the vehicle. Because the interior of camper van is very complicated structure or layout. So we decided to put something to give the taste or the beauty of Japan to the interior design. We tried to create another interior design for our vehicle. That is our design aesthetics. Simplicity is the key factor.
What is the advantage and attractiveness of yourMobelfor Kyoto? 
 
(Chikara) As you mentioned before, over-tourism in the city center isvery obviousissue. I think DMO (Destination Management Organization) like Umi-no Kyoto DMO or Yama-no Kyoto DMO, have been working hard to try to get people to visit outside Kyoto city. I think definitely a market will be there: especially Kyoto Prefecture is investing these places to encourage people to visit.

 
(Dinesh) Yes, Kyoto is the main reason why we thought of this idea. Furthermore, people who come to Kyoto just for sightseeing don't have any enough information other than what they found or red some social media articles as the mainstream. This is another reason why we motivated to provide this service. So, the City of Kyoto is trying to create sustainable tourism which we think our idea will fit perfectly.
Regarding SDGs issue in Kyoto, we think the core SDGs is the industry infrastructure and innovation as well as sustainable cities. While realizing our business idea, we want to address three major problems: One is the economic effect, second is the over-tourism, and third one is the clean energy using this electric vehicles.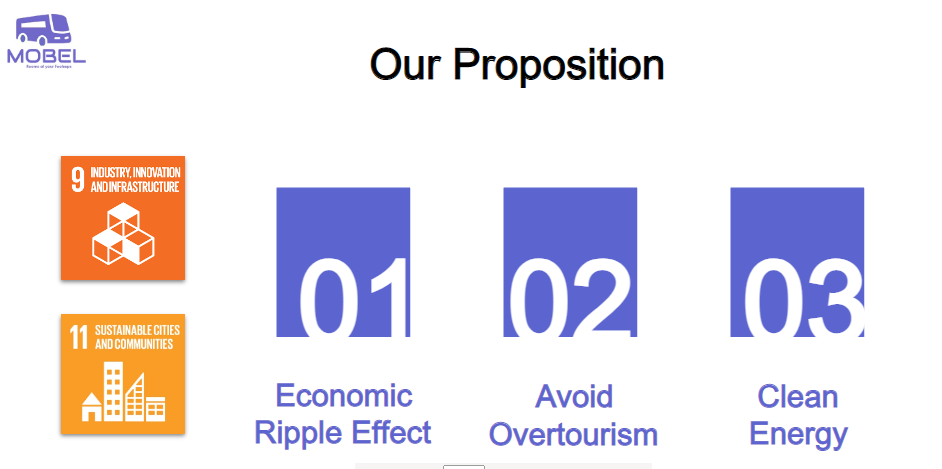 How do you feel after joining the venture contest and winning the prize?
 

 (Dinesh) As Chikara san mentioned before, although we had this idea, we were not sure whether this idea could be saleable, whether we should consider it more seriously or we should keep it just as an idea, etc. Then we came across this venture event.

 
"Let's try to join the contest and see how people might react to our idea!"
As influential entrepreneurs and companies would come to see the event, we thought at least we would be judged or commented from the different points of view. So joining the event and getting the comments was our main motive. Winning a prize was something which we didn't expect from the beginning.
This recognition gave us more confidence and more credibility that this idea can be sold. As long as we have the right initiatives and the right contacts, I think we will be able to push it forward. If we work more on it at the right time, we will be able to pursue it.
(Haissam) I would like to add one thing. Apart from confidence, this entrepreneurship event was very insightful and meaningful. The idea was originally a brainchild of Chikara san and Dinesh and they worked on it as a class project. However, we discussed with our other professors to join this event and all these professors gave us a lot of nice insights and advice. We polished and brainstormed our idea a lot, and understood how we would make an idea in a storytelling way as well as to make it saleable in the market. This learning experience was really amazing.
This event really helped us to brush up our idea, our personality and everything. Good thing is everybody learned something through this experience. I hope this learning experience will add more value on us in few years when post pandemic circumstances will be much better.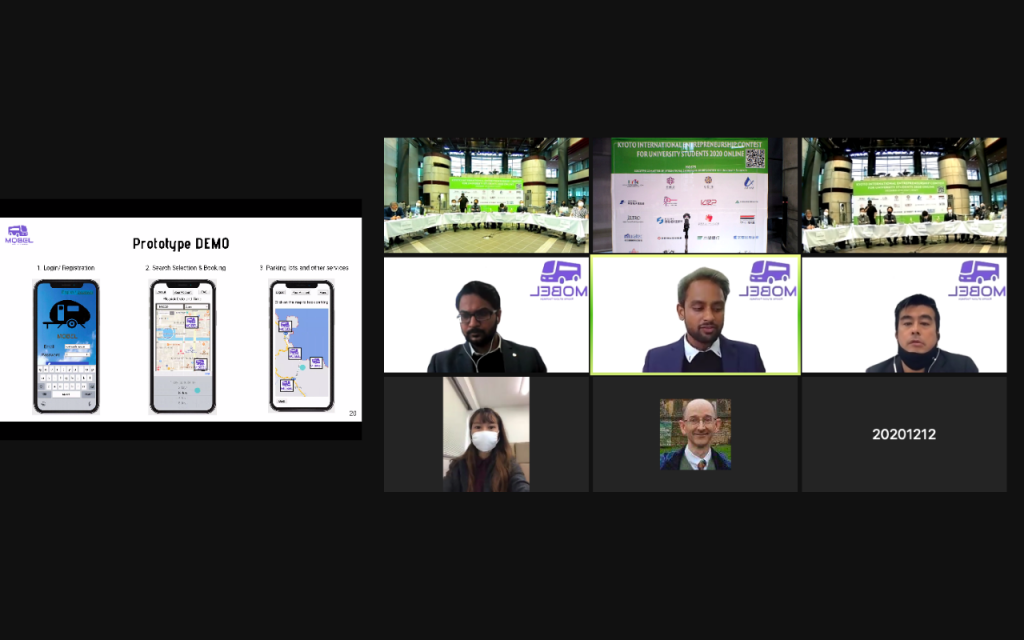 Thank you very much for sharing the time! We look forward to seeing your idea of Mobel will come to life and solve the issues that Kyoto faces in the near future.