We assist your participation in the business community of Kyoto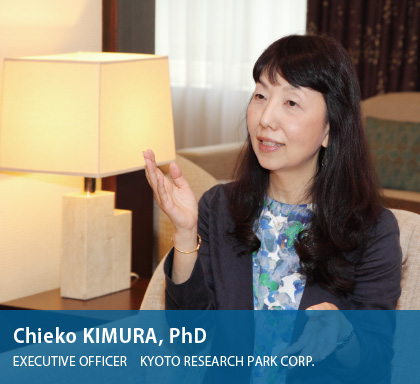 Kyoto is sometimes compared to Silicon Valley, because of its concentrated interdisciplinary business community located in a geographically compact area. This is a rare characteristic among Japanese cities, and is regarded as of considerable value to Kyoto.
In Kyoto, business activities are often supported by culture that has been developed over the history of 1000 years within the traditionally nourished Japanese atmosphere. There is even a legend that business negotiation never fails when held in Gion, an area that symbolizes Omotenashi culture in Kyoto.
The Kyoto Research Park was opened in 1989, aimed at establishing a hub for creating new industries and for promoting industry-government-academia collaboration, through partnership between the Kyoto prefectural government, the Kyoto municipal government, and local industries.
At present, nearly 400 businesses and organizations from Japan and overseas are housed here, and provide services from private perspectives with an Omotenashi mindset. A startup facility, "KRP BIZ NEXT", offers you the instant use of an office, equipped with secretary and other services. Even a single businessperson can efficiently start up a business here, with our support.
To create new industries through industry-government-academia collaboration, we also promote platform activities in four areas: "ICT & Design", "Creative Biz Creation", "Electronics & Energy System", and "Life Sciences". We hold study meetings and forums inviting leading specialists. You could leverage these occasions for connecting with the local business community and enhancing your business opportunities.

Kyoto Research Park (KRP)
The first privately operated research park in Japan: KRP provides creative research and development environment and related services, thereby supporting businesses that pioneer new areas, and contributing to the development and revitalization of local industries, while proactively promoting exchange and collaboration with universities, research institutions and overseas organizations.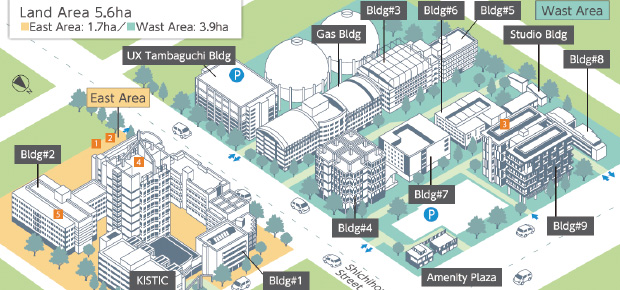 Kyoto Industry Support Center
A Kyoto prefectural industry support center located in KRP, where businesses can find support for management and engineering: To facilitate technological development, research and development, and quality improvement, businesses can also perform testing and evaluation using rental equipment for testing/analysis and processing.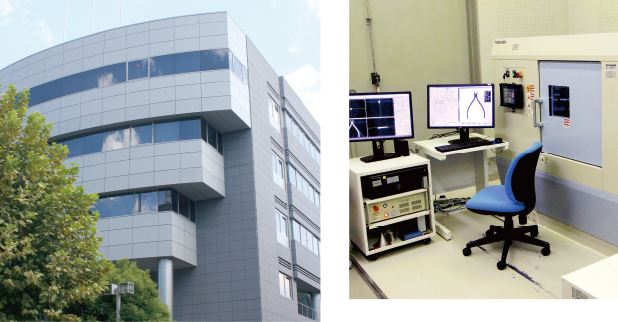 Photos provided / with the cooperation of:Kyoto Research Park Corp.,Kyoto Prefectural Technology Center for Small and Medium Enterprises