We interviewed Dr. Lotfi El Hafi, President & Founder of Coarobo GK, a company providing the necessary expertise, toolchains, and open-source solutions to lower the technological barriers of robotics. They recently contributed to the navigation system of the solution that won the 1st Place of the Future Convenience Store Challenge at the METI/NEDO World Robot Summit 2020.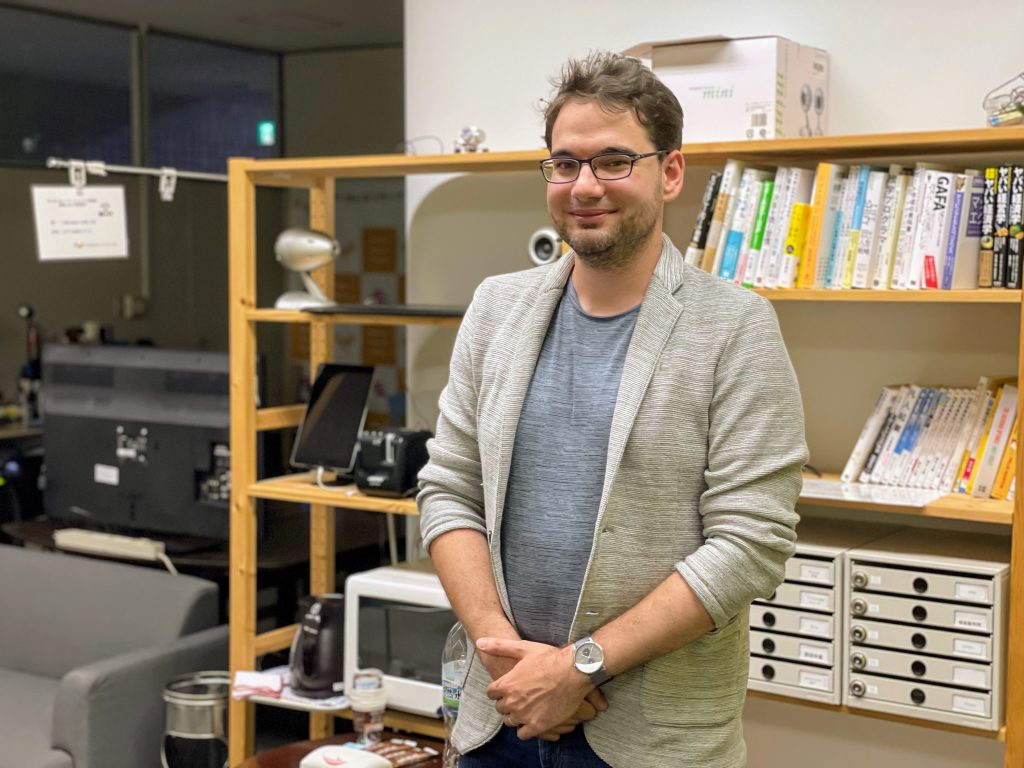 1.Please introduce yourself. Why did you come to Japan?
My name is Lotfi El Hafi, and I am from Belgium. I received my MScEng in Mechatronics from the Université catholique de Louvain (UCLouvain), Belgium, in 2013. After that, I worked for a year with a Belgian company called into PIX which provides video processing solutions on FPGA boards. While working there, I successfully passed the selection for the MEXT Scholarship Program and came here to Japan in 2014 to pursue a PhD at the Robotics Lab. of the Nara Institute of Science and Technology (NAIST) led by Prof. Tsukasa Ogasawara.


After graduation in 2017, I joined the Emergent Systems Lab. of Ritsumeikan University, Japan, as a Senior Researcher under the supervision of Prof. Tadahiro Taniguchi, whose primary focus is artificial intelligence (AI), to conduct research on service robotics.


Today, I work as a Research Assistant Professor for the Ritsumeikan Global Innovation Research Organization (R-GIRO), as a Specially Appointed Researcher for the Toyota HSR Community, and as a Research Advisor for Robotics Competitions at the Robotics Hub of Panasonic Corporation. Finally, I have been the President & Founder of Coarobo GK since its incorporation in Kyoto, Japan, in 2019.
2.How did your company, Coarobo GK, start?
As my friends and I were studying robotics and AI during our PhD, we collaborated with Panasonic and other world-class companies in joint research projects. While working together, we could observe that many practical problems remain unsolved to bring robotics to daily life.
In addition, we noticed that the allocation of cross-institutional research budgets was surprisingly more rigid than one could imagine, especially regarding the employment of part-time researchers or engineers. On the other hand, outsourcing engineering work to third parties was permitted but expensive and often led to terrible results because our demands, by the nature of our research itself, were too complex. More than often, we thought that we should have done it ourselves if regulation had allowed us.
Therefore, we, Dr. Gustavo Garcia, Dr. Felix von Drigalski, and I, respectively at the time Assistant Professor at NAIST, Senior Researcher at OMRON SINIC X, and Research Assistant Professor at R-GIRO, decided to create our own company to bridge academia and the industry by providing flexible consulting services for joint research and development in the fields of robotics and AI. We wanted to leverage our experience and expertise from successful cross-institutional projects to teach other experts.
Although developing a business was a new challenge for us, and quite different from research, we had discussed the project for a long time already, and we were motivated to start this new company at the same time as Japan was entering the new Reiwa era. That is how Coarobo GK was officially incorporated on December 9th, 2019, in Kyoto, Japan.
Because of our primary research occupations at our respective institutions, we rapidly set up a cloud-based infrastructure to remotely conduct most of our business operations. However, we still needed an office for physical presence and legal existence. We found the ideal location at Keihanna Science City. More specifically, at the Unicorn coworking space of the Advanced Telecommunications Research Institute International (ATR), where entrepreneurs like us can meet and develop innovative ideas together.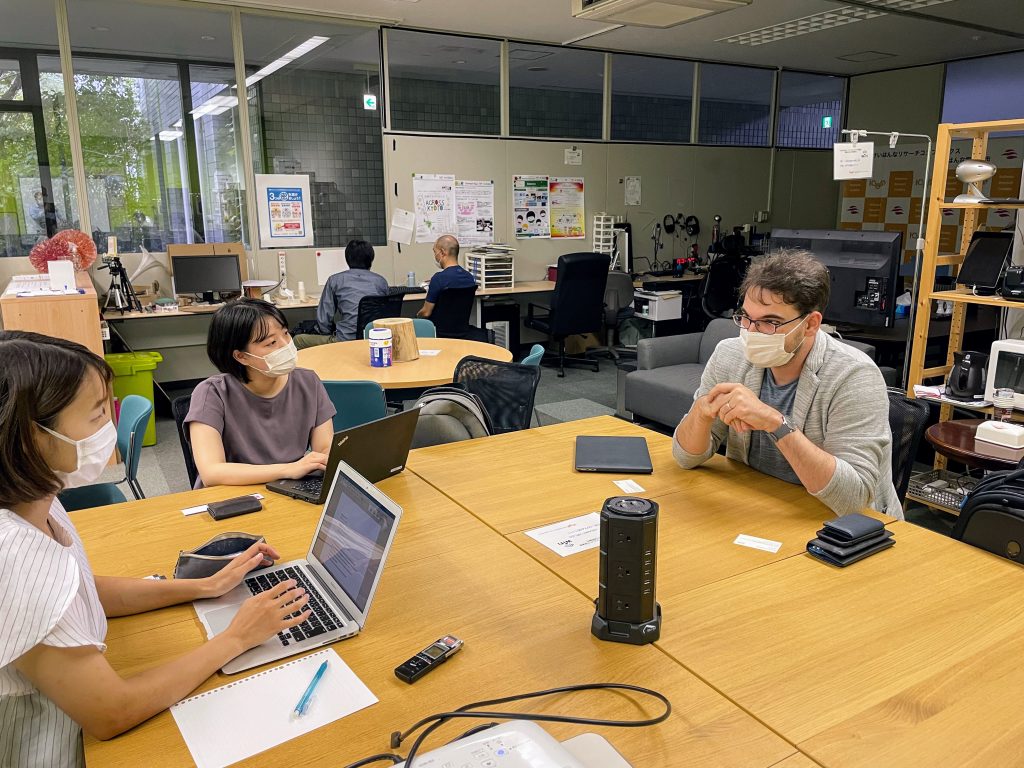 3. What difficulties did you face when you started your business?


The main difficulties were related to administration and taxation. On the one hand, it was not easy to navigate the incorporation process in Japanese. Although JETRO provides many translated examples of the various required documents on its website, most of them focused on the classic  kabushiki kaisha (KK) equivalent to a joint-stock company. However, we wanted to incorporate Coarobo GK as a godo kaisha (GK), a recently introduced legal form of business organization modeled after limited liability companies that is more suitable for startup projects. Indeed, a GK typically offers more flexibility and fewer restrictions. You need fewer initial preparations, documents, and capital than for a KK. However, unfortunately for English speakers, there is also less online documentation, probably because GK is still a relatively new form of business organization. Yet, we started a GK because our core knowledge at that time was science and engineering, not business and administration. That said, we have learned a lot since then.


On the other hand, understanding the taxation system for incorporated entities was more complicated than we thought it would be. Generally speaking, information regarding taxes is already complex for Japanese individuals. Still, it was even more challenging for us as foreigners due to our limited Japanese reading skills regarding such specific vocabulary. After spending weeks trying to navigate and complete Coarobo GK's corporate tax return by ourselves, we had to give up and seek the help of an external tax accountant. That has also proven difficult, as many accounting services may not suit small startup needs. However, through the connections of the other companies of our coworking space at Unicorn, we could find one willing to support the development of our nascent business. His name is Shigeru Yoneda, and he is still helping us to this day.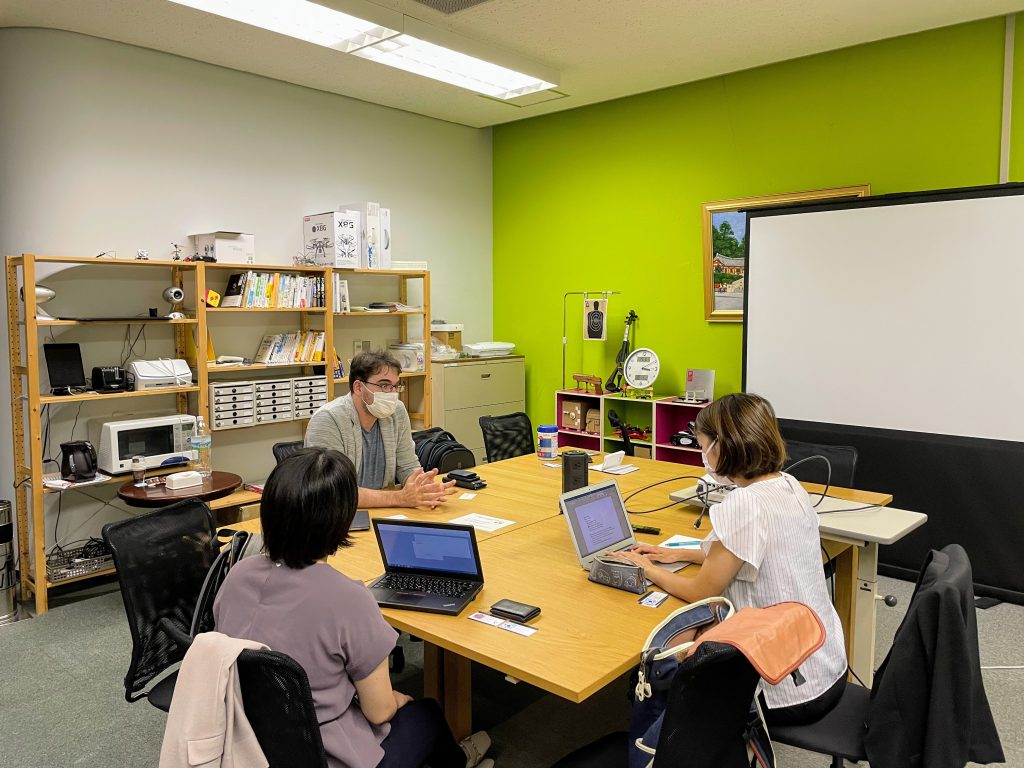 4. Did you think about going back to Belgium when you graduated?
Yes, I did. Actually, I initially came to Japan as a MEXT Scholarship recipient for a 2-year research internship at NAIST. I clearly remember that I was thinking that I would go back to Belgium after finishing my research project. But six months into the internship at the Robotics Lab., my supervisor, Prof. Tsukasa Ogasawara, asked me to pursue my research in a more formal 3-year doctoral course. With the support of NAIST, I successfully applied for an extension of the MEXT Scholarship and passed the doctoral entrance examination. And so, 2 years became 3.
I also thought of going back to Belgium after getting my PhD. However, I met my Japanese wife during that period and was offered an attractive 5-year research position at R-GIRO shortly after. And so, 3 years became 8. Therefore, I decided to stay in Japan for the time being and apply for permanent residency to raise my sons with peace of mind. The lesson from my experience is that life is a dynamic process full of unexpected opportunities and outcomes!
5. What did you decide to start your business in Keihanna Science City?
Mainly because the location and the environment provided by ATR satisfied us. First, we wanted to establish Coarobo GK within the professional network that we built during our PhD at NAIST, and we knew many influential people working in and around ATR who could help us to get started.
Second, the cost of renting a shared office at Unicorn was very attractive. As we privately financed the incorporation of Coarobo GK and maintained primary occupations aside from it, we had realistic sales expectations at the beginning. Therefore, keeping operating costs as low as possible appeared essential to us. The affordable rent at Unicorn also allowed us to develop a flexible cloud-based remote workflow while retaining a local anchorage.
Third, Keihanna Science City was well-connected, and transportation was convenient. I also felt that Kyoto offered a competitive environment with friendly tax policies for young entrepreneurs like us.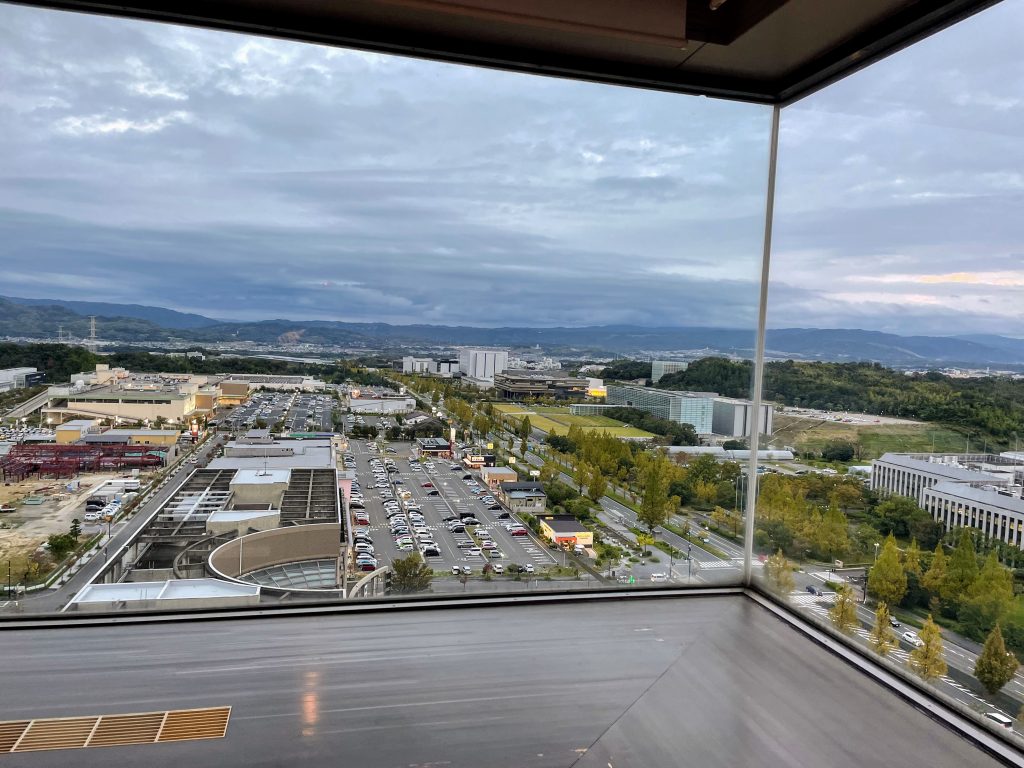 6.What are the attractive points of Keihanna Science City?


First, if you look at a map of Japan, you will immediately notice that Keihanna is at its center, right in the middle of the Osaka-Kyoto-Nara triangle. You will also notice the highway connection with the major Kansai International Airport (KIX). In addition, Keihanna Science City is surrounded by national universities, innovative startups, and global companies, which combine to create a fertile ground for cross-institution collaborative projects or research internships.


There is also the Keihanna Open Innovation Center (KICK), close to ATR, which promotes advanced R&D by offering its immense space of about 35,800 square meters for rent at a very affordable price. This allows us to deploy the robots shipped by our partners in large indoor spaces to perform experiments and tests in real conditions outside simulations. Thanks to KICK, intermittently renting demonstration spaces represents only a minor fraction of the operating cost. With all these advantages, Keihanna Science City is very attractive for young startups like us.


7. What kind of visa did you apply for, and why?


When I first arrived in Japan, I obtained a non-working Student visa with the help of NAIST. That was my first visa, and it was only valid for a maximum of 2 years. In addition, only activities related to study or research are allowed. Basically, I could not do part-time work outside the university. I had to renew this visa once, again with the help of NAIST.


Following my PhD graduation, Ritsumeikan University asked me to apply for the typical working Professor visa that allows research activities, but again with restrictions on other activities. For instance, you are not allowed to start a business company under that visa, and renewal is mandatory every 2 years.


However, around that time, Japan introduced a point-based system to attract talented foreign individuals. If you meet this system's rather high criteria, you can apply for the Highly Skilled Foreign Professional visa. This special visa grants 5 years of validity and many other advantages, such as a significantly shortened mandatory period of stay for eligibility to permanent residency, compared to other typical working visas. On top of this, other types of visa activities are allowed, including starting your own business. I successfully applied for it in 2017, and all the other international members of Coarobo GK too. This greatly facilitated the incorporation of our company at the Kyoto Legal Affairs Bureau that thoroughly verified that we held appropriate visas.


I think that many Japanese employers, like Ritsumeikan University at that time, still do not know much about this new point-based system. Although it takes longer to prepare the documents, it offers greater freedom to the holder.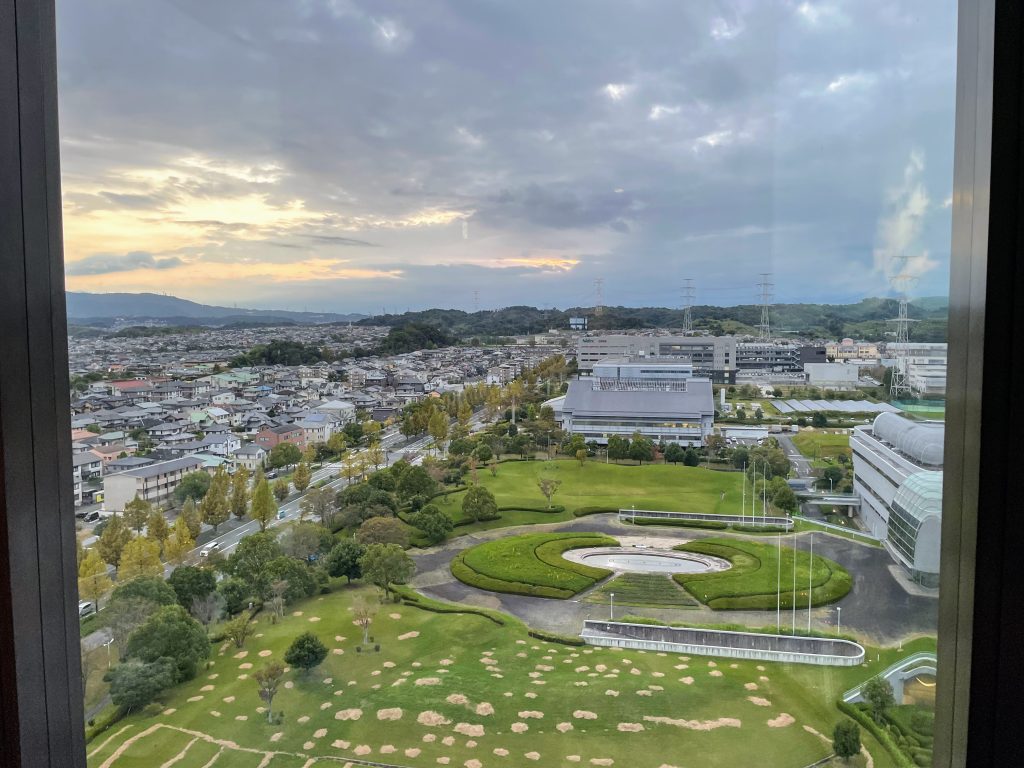 8. What is your vision for the future of Coarobo GK?
I hope that intelligent service robots will ultimately relieve humans from repetitive or dangerous labor in the future. If achieved, not only could humans collaborate with robots but also focus on more meaningful creative tasks. We could also simply rest and enjoy more fulfilling lives while robots support the economy.
Therefore, I want Coarobo GK to serve as a bridge between academic research and industrial integration. In academia, researchers are very focused on pushing the frontiers of theoretical knowledge to propose novel AI models. However, although experiments are conducted, methods evaluated, and results published, practical applications are usually not fully developed. On the other hand, the industry is more focused on deploying practical solutions relying on proven technologies and processes. I believe that Coarobo GK, with its experience in both worlds, can merge critical academic thinking and industrial development processes to add value to society.
That is why Coarobo GK offers flexible open-source solutions inspired by academic methods to help companies improve their research and development approach to AI and robotics. Teaching experts with more efficient toolchains will always remain at the core of Coarobo GK's future missions.
Discover more at: https://coarobo.com/