Overseas Entrepreneurs' Path to Start a Business in Japan's Old Capital
We sat down with Qiao Hengyue (CEO and product Manager) and Chang Shunchih (CFO and Product Manager), who founded the startup called funfo. They received the first startup visa in Kyoto, which was launched in April 2020 by Kyoto prefecture, Kyoto City and JETRO Kyoto. Friends who studied together at Ritsumeikan University are now also colleagues. Mr. Qiao currently goes to the graduate school of Osaka University engaging in both research and business. In this interview, they told us why they decided to open a business in Kyoto, what are difficulties for non-Japanese entrepreneurs in founding in Japan  and some tips to tackle these challanges.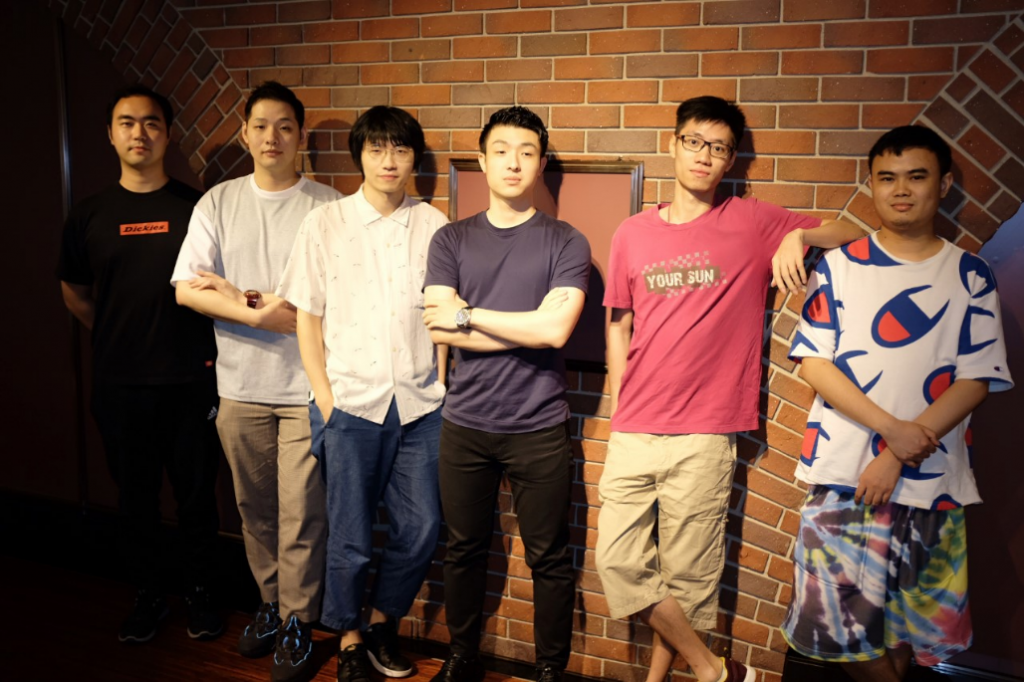 Q. First, could you tell us about funfo's service?
"funfo" is a cloud-based menu application for restaurants. This app enables no-contact ordering, payment, delivery, menu management, and sales data efficiency. It is currently being introduced on a trial basis into about 20 restaurants mainly in the Keihanshin (Kyoto, Osaka, and Kobe) area (*as of October 2020).
Q. What was your inspiration for being an entrepreneur in Japan?
It all started when I returned to China, I found that it took only one waiter to run a large restaurant smoothly. On the other side, it seemed difficult to get a waiter at a restaurant in Japan. I wondered what was the difference and saw the possibility to make restaurants in Japan smart with IT technology.
IT service for restaurants have been already developed, but most of them are not suitable for small-scale restaurants costwise. As we have been familiar with IT technologies, building websites and operating SNS while studying at the university, and knew how to develop service for restaurants with low cost, we saw the potential to provide better services in this field. Although we didn't initially predict, the demands for contactless application have increased dramatically during COVID-19 pandemic. Our business is driven by our belief that "there is always an opportunity in changes."
Q. How did you gain experience in IT?
Even before I came to Japan, I used to play online games a lot. When I was in Ritsumeikan University, I already created websites with my friends, so I was familiar with digital devices and system building long before I started my own business. I learned the code and other things by myself, based on what I found interesting on other sites. Thanks to this experience, I found no trouble in communicating smoothly with professional engineers and I think it was very useful.
Q. Why did you launch funfo in Kyoto?
Kyoto has a lot of universities and young people, and I also think it is partly due to characteristics of Kyotoites, New services are easily accepted. Moreover as our alma mater, Ritsumeikan university is in Kyoto, we were able to make use of our personal network of connections. In addition to these reason, we decided to start a business in Kyoto because it was a tourist city with many restaurants. Here we have a large number of people from overseas, especially Chinese tourists, and they are familiar with cashless services. In the future, we are considering linking this to inbound travel, especially to China, in order to attract visitors.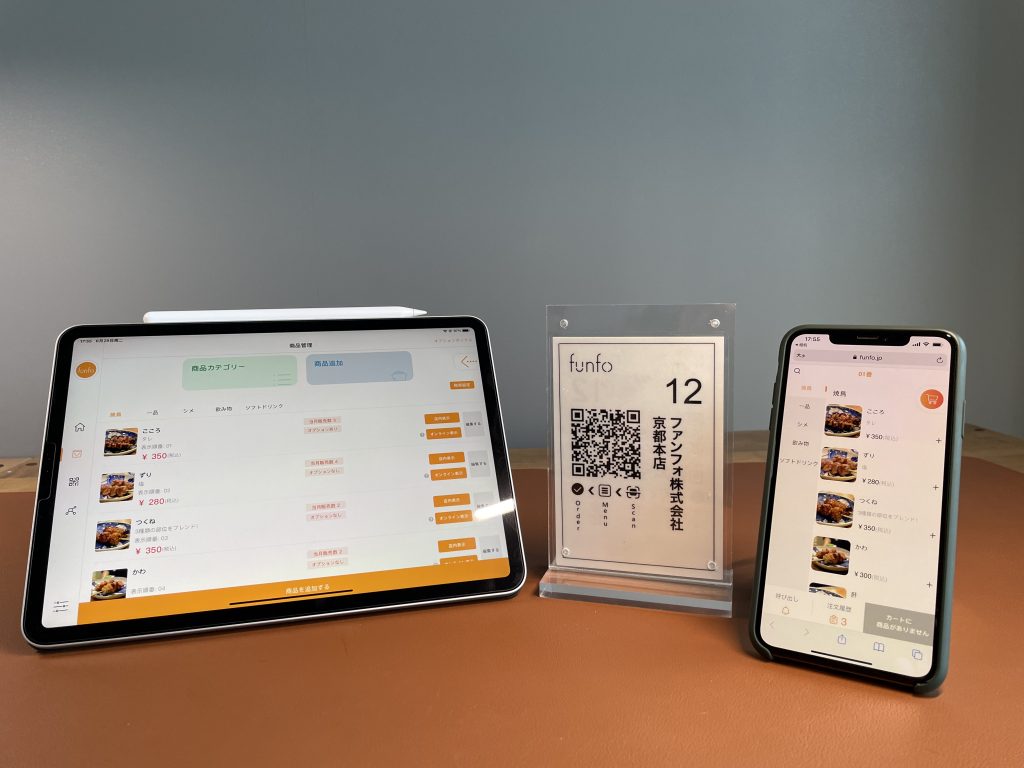 Q. What do you think could be hurdles for non- Japanese entrepreneurs?
(Mr.Qiao) The biggest challenge is to apply for a visa. I am currently on an international student visa and it does not allow me to start a business. As is the case with other visas, applying for a visa is basically a complicated process. That's why it's very helpful to get support through the start-up visa system. Another hurdle is networking. Unlike in China, I don't have any connections like relatives in Japan, There are also times I find it hard to communicate with people as we're not native Japanese speakers when I participate events. Recently there are many events online, but I feel that it is more difficult to jump in conversations between Japanese people.
Q. So how did you overcome the hurdle of networking?
(Mr.Qiao) We attended many entrepreneurial and financial events and built connections from scratch. Although there are international students communities, they are mostly from my university. In order to meet people outside universities, you have to join off-campus events where you cangain working connection. We participate in events, and the people we meet there introduce us to someone else… it's all a steady process, one day at a time.
Q. Why were you able to maintain your enthusiasm for starting a business when it was such a tough one?
(Mr.Qiao) I think it is because we are motivated by a strong feeling of urgency that we have to act quickly. Of course, I didn't think it would be this difficult at first, and there is a number of hard works involved, but the sooner you are prepared, the more resourceful you will be. IT tools are always required version updates, and the fact that I have a limited period of stay with a visa has a positive side in a sense. When you have to proceed tasks within limited amount of time, I think speed is essential.
Q. Please share us your thoughts on JETRO Kyoto's support
(Mr.Qiao) I found it to be beneficial that we could receive various supports. As mentioned above, most of non-Japanese entrepreneurs have difficulty in networking, so I am very grateful for the consultation and referral to a specialist. If I had to make a request, it would be nice if there was a platform for Japanese students' startups not only for international students. Not many Japanese people are familiar with venture businesses, but I feel their zeal is all the stronger. It would be great to have a place where people follow-through their passion.
Q. Is there anything else you wish you had?
In the future, it would be nice to have startup gatherings including not only entrepreneurs and international students, but also Japanese students. I think it is easier to open up with a same generation and more people would be interested in becoming an entrepreneur if they had that kind of opportunity during their school years.
Q. What's your take on the awareness of starting a business among Japanese students?
When I was studying at the university, I didn't get an impression that most of Japanese students want to start a business. However, I felt keen interestsfrom those who wanted to be a founder. So it would be wonderful if there was a place where they pursue their enthusiasm.
Q. How did you form funfo team?
(Mr. Qiao) Mr. Chang and I met through online games before we came to Japan, we've been friends for over 8 years now. Some of the other members of the team were originally working together on a game site, so you could say that our business relationship started out as personal connections.
Q. Have you experienced any disagreements among the team in the past?
(Mr. Qiao) We hardly had any disagreements. Each of us have our own role and we respect each other. Sure we discuss problems when we have one and it's not that we always stay out of each other but conflicts never really happens among us.
Q. Finally, share us your ambition, please!
(Mr. Chang) In Taiwan where I come from, many people have an affinity for general impression and temperament of Kyoto, and I have a good image of Kyoto business-wise, too. I am glad be able to set up a business in such a city.
(Mr. Qiao)I hope that funfo become a tool to help people change their lifestyle by turning all restaurants into smart restaurants. I would be very happy if it leads to contribution to the development of Kyoto and Japan. You can see a fusion of tradition and innovation in Kyoto. Tradition and innovation seem to be contradictory words at first, but they are fused here in Kyoto, which is truly surprising yet extremely appealing at the same time. In this kind of an environment, we, as one of the companies in Kyoto, will proudly do our best.